Aluminium Bi-Fold Doors
Secure and Contemporary Aluminium Bi-Fold Doors in Basildon & Essex
Aluminium Bi-Folding Doors will provide your Essex home with unbridled security and energy saving values. A highly attractive and sought after design bi-folding door, they boast effortless functionality whilst adding value to your Essex home.
On top of the security features and thermal efficient technology that our aluminium bi-fold doors offer, they are also designed to flood your Essex property with natural light; gifting you with panoramic views of your garden. We specialise in supplying and fitting aluminium bi-fold doors throughout Basildon, Canvey Island, Chelmsford and the surrounding Essex areas.
We pride ourselves in supplying and fitting the highest quality aluminium bi-folding doors, at the most competitive prices in Essex. We work with SMART to ensure your aluminium bi-folding doors are manufactured from top grade aluminium. The highest grade aluminium on the current market.
SMART Aluminium
Located in Yatton, North Somerset. SMART Architectural Aluminium have grown to become the leading fabricator of aluminium. Building a reputation for quality, innovation, design and technical expertise.
SMART make daily deliveries around the UK, with a Fleet of ten lorries. Choose the quality of SMART and our reputation for excellence, and you'll guarantee yourself sublime aluminium bi-fold doors.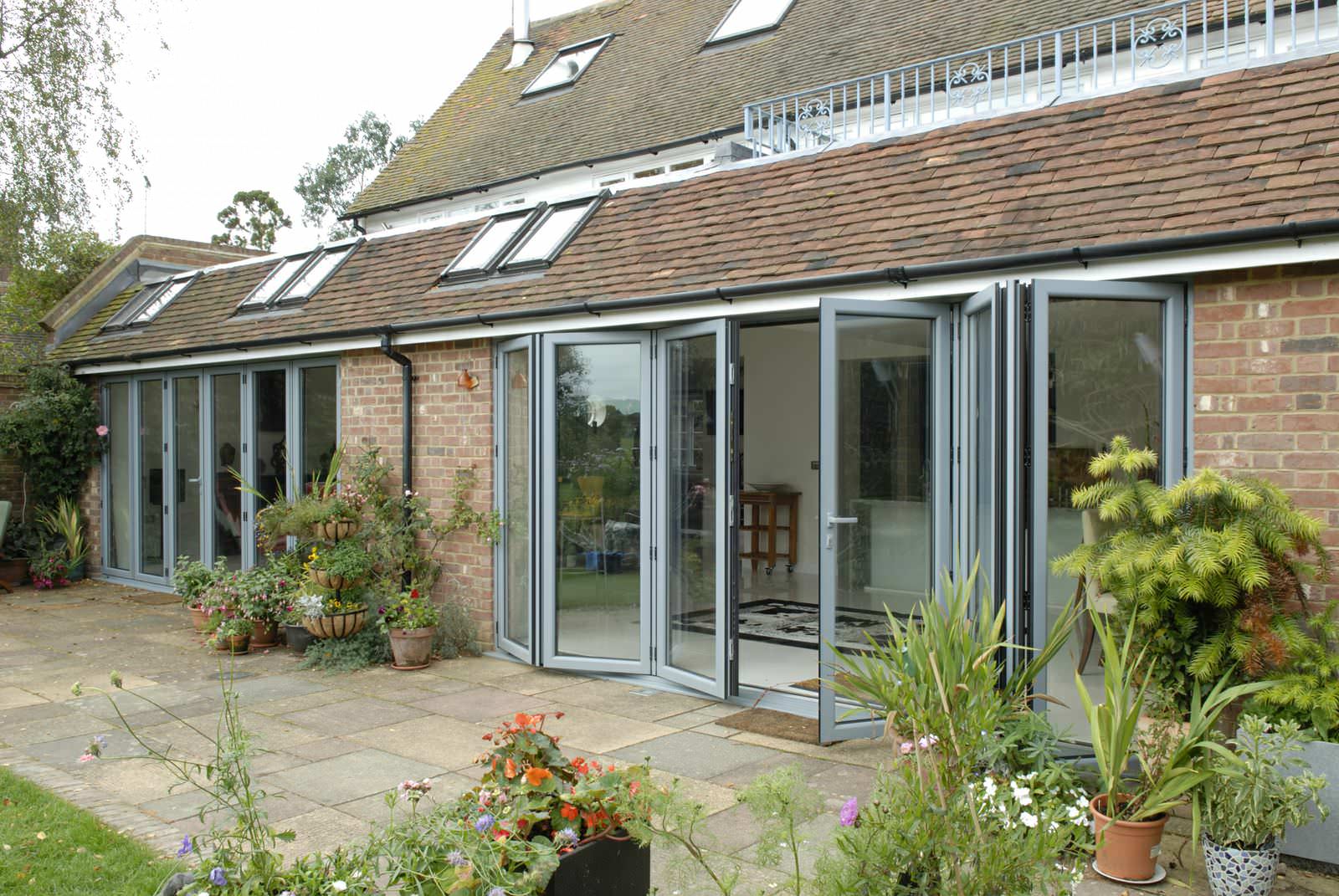 Aluminium Bi-Fold Doors Design
Our aluminium bi-folding doors are designed to complement the aesthetics of your Essex home. Choose from our diverse range of attractive RAL colours, ensuring your aluminium bi-fold doors add to the character of your Essex home.
For an attractive finish, and continuous smooth operation, we build all locks and hinges into the frame of your aluminium bi-fold door. Furthermore, bi-folding doors are constructed with slim sightlines; choose between a two to seven leaf design.
We can manufacture our aluminium bi-folding doors with a low threshold option. Making access easier for wheelchairs, prams and the elderly. Plus, the low threshold option accentuates the appearance of both traditional and modern homes.
A contemporary meets modern design, available in a range of desirable colours. Ideal for period properties and modern designs alike.
Aluminium Bi-Fold Doors Security
Our aluminium bi-fold doors are designed to tighten the security of your Essex home. The materials used, design and locks all contribute to making these doors amongst the best on the current market.
For starters, aluminium itself is a highly dense material, almost impossible to bend and break without the use of power tools. The reinforced glass slots and locks perfectly into the frame of the door, which means that removing the glass is quite simply out of the question.
To ensure your doors remain locked, we use the highest quality stainless steel compact locks on the current market. Our locks have been tested to breaking point, so you can be rest assured they will achieve high levels of resilience. We constantly reinvest in the security of our bi-fold doors, troubleshooting to eliminate all weak points.
As previously mentioned, our locks are strategically placed to maximise the security of your Essex home. Out of sight is out of mind, and it's the same story with our aluminium bi-folding doors. By building all locks into the frame, potential burglars cannot locate or reach them.
Aluminium Bi-Fold Doors Brochure
Online Quote for Aluminium Bi-Folding Doors
To obtain your free aluminium bi-folding doors quote, use our contact form. One of our friendly and informative staff will contact you at a time that best suits. We can give you more information on our aluminium bi-fold doors and provide you with a non-obligation quote over the phone.
For tailor made aluminium bi-folding doors in Essex, contact us today.