Creating a new entrance in your Essex home is a big decision and one that takes a lot of consideration. Our aluminium bi-fold doors make that decision so much easier.
They are a fantastic choice as a replacement door for your existing sliding doors, or as a completely new installation, opening up your home. These superb bi-folding doors will enable you to make the most of your home, giving you whole new lifestyle opportunities.
The fantastic space they create by seamlessly combining the indoors and the outdoors at your home will enable you to through summer parties, barbeques and gatherings for family and friends in style.
At SWD, we are expert double glazing installers, so you can count on us and our 20 plus years of experience to ensure you get the perfect fit from your new aluminium bi-fold doors.
We only work with the very best double glazing products too, and our aluminium bi-fold doors in Essex are the most trusted doors in the industry.
High-Security Aluminium Bi-Fold Doors
Protecting your home against intruders is one of the main functions of any entrance to your property, and with an aluminium sliding door, you can count on superior security performance.
Our sliding doors are constructed using the Smart Architectural Aluminium profile. This state of the art design features high-grade aluminium, a naturally strong material. This aluminium is so incredibly robust, it is virtually indestructible.
In addition to this, our aluminium bi-fold doors are fitted with advanced locking systems that are specifically designed to offer exceptional protection for your home.
These sliding doors will protect your Essex property and your family from even the most determined of intruders.
---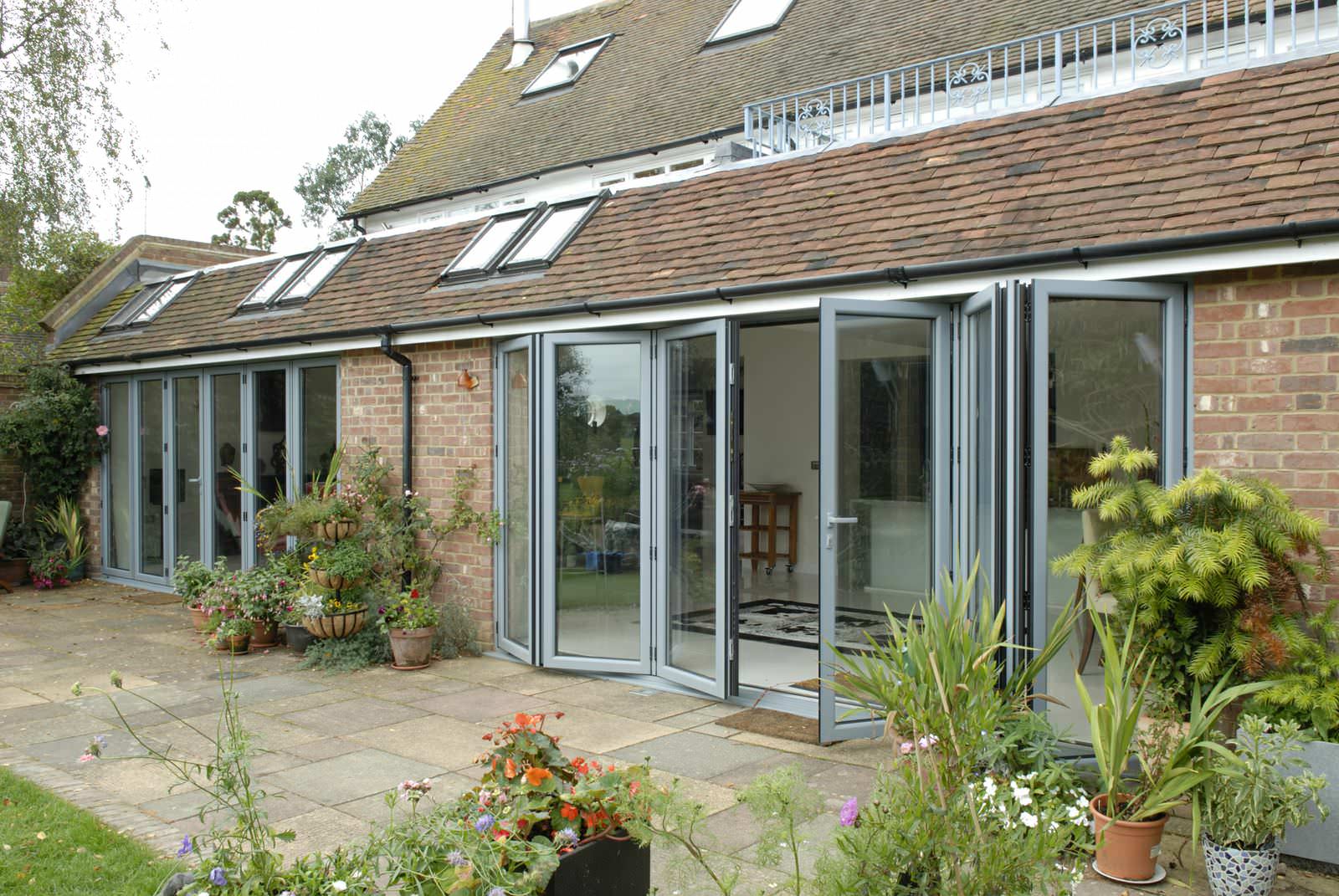 ---
Protect Your Home from the Cold with Aluminium Bi-Fold Doors
Aluminium was once thought of as a poor material for double glazing, and considered to be cold and offering limited protection against heat loss. Our updated design successfully counteracts this.
Our state of the art aluminium bi-fold doors are exceptional when it comes to thermal performance. These innovative doors feature a thermally broken profile combined with the very latest developments in double glazing to ensure outstanding energy efficiency.
These superb doors are even capable of exceeding the requirements of Building Regulations when it comes to thermal performance.
Sustainable Living with Aluminium Bi-Fold Doors
The energy efficiency of our aluminium bi-fold doors is not only great for your home, making it more cost effective to you using less heating, but it will also help to improve your carbon footprint.
Aluminium doors are the ideal choice for eco-friendly homes. They reduce heat loss, and they are incredible when it comes to recycling. It's never been easier to enjoy quality the green way.
Aluminium can be recycled endlessly, never losing its natural beauty or its superior performance. It can be repurposed time and time again, making it ideal for a sustainable lifestyle.
Our stunning aluminium bi-fold doors help you to create an environmentally friendly Essex home.
---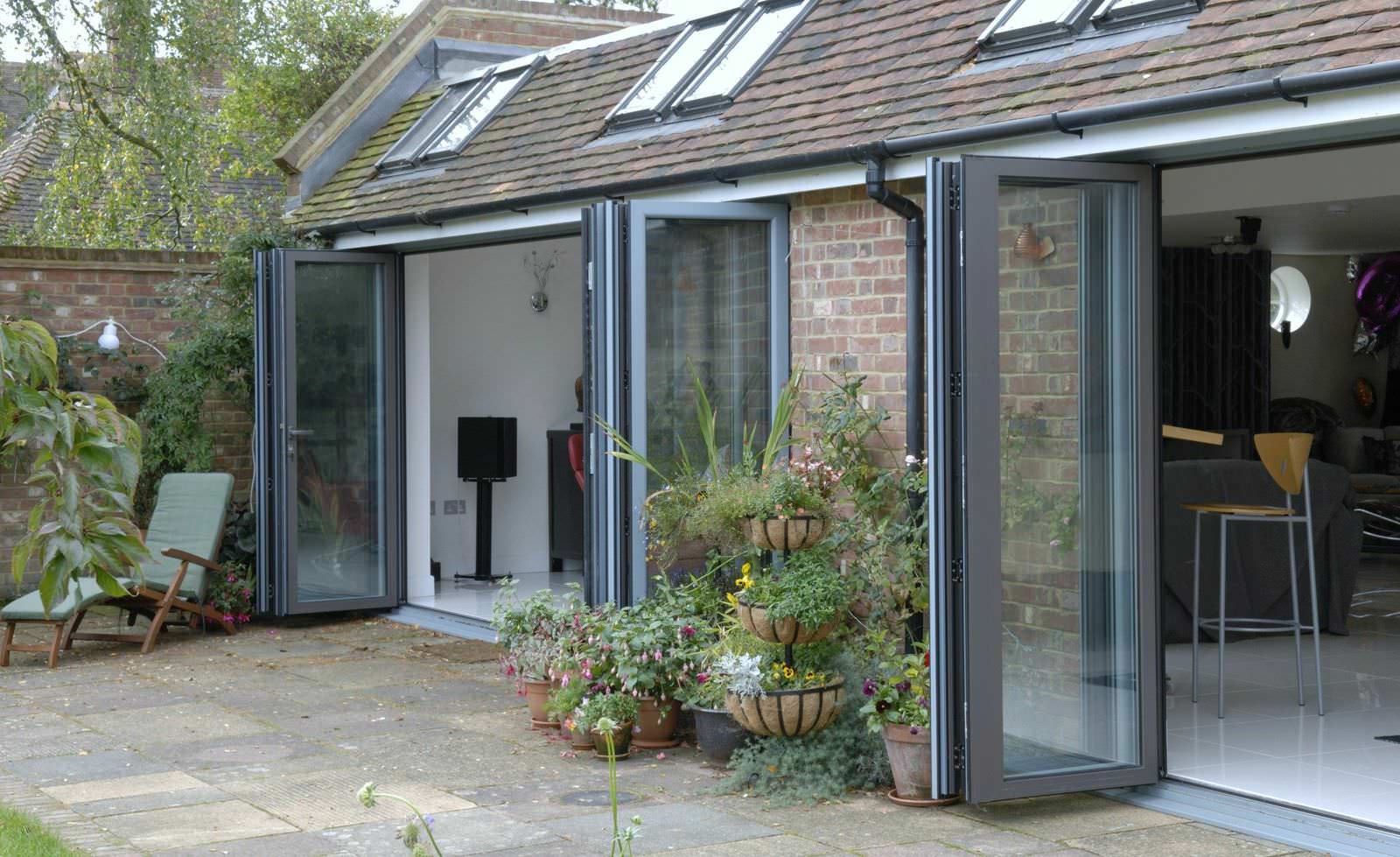 ---
Accessibility with Aluminium Bi-Fold Doors
Whether you are a wheelchair user wanting durable and robust access to the outdoors, or you have a family with young children and in need of seamless accessibility for buggies, our aluminium bi-fold doors are the ideal solution.
You can benefit from easy access thanks to our impressively hard wearing and strong threshold options. We offer an ultra low threshold that can be combined with ramps for excellent accessibility, opening up your garden to all.
Our smooth and effortless opening mechanism makes opening these doors easy too, great for any member of the family.
Personalised Designs with Our Aluminium Bi-Fold Doors
If you are looking for a truly personalised home improvement in Essex, then our aluminium bi-fold doors are perfect.
You can choose from 2 to 7 panels for your door design, and then select the exact fold configuration to make these doors a practical entrance to or within your property. Our doors can be created to open left to right, right to left or from any point in between.
When it comes to the appearance of these doors, the super slim profiles can be customised with one of an extensive range of colour finishes. We offer the full variety of RAL colours, giving you a wide variety of choice.
Create a bold and bright feature with your new doors, or a countryside chic pastel look. We even have a collection of rich shades, ideal for a traditional appearance.
You can also opt to have dual colours, choosing one shade for the outer frame to match your architecture and another one for the internal frame to complement your interior décor.
---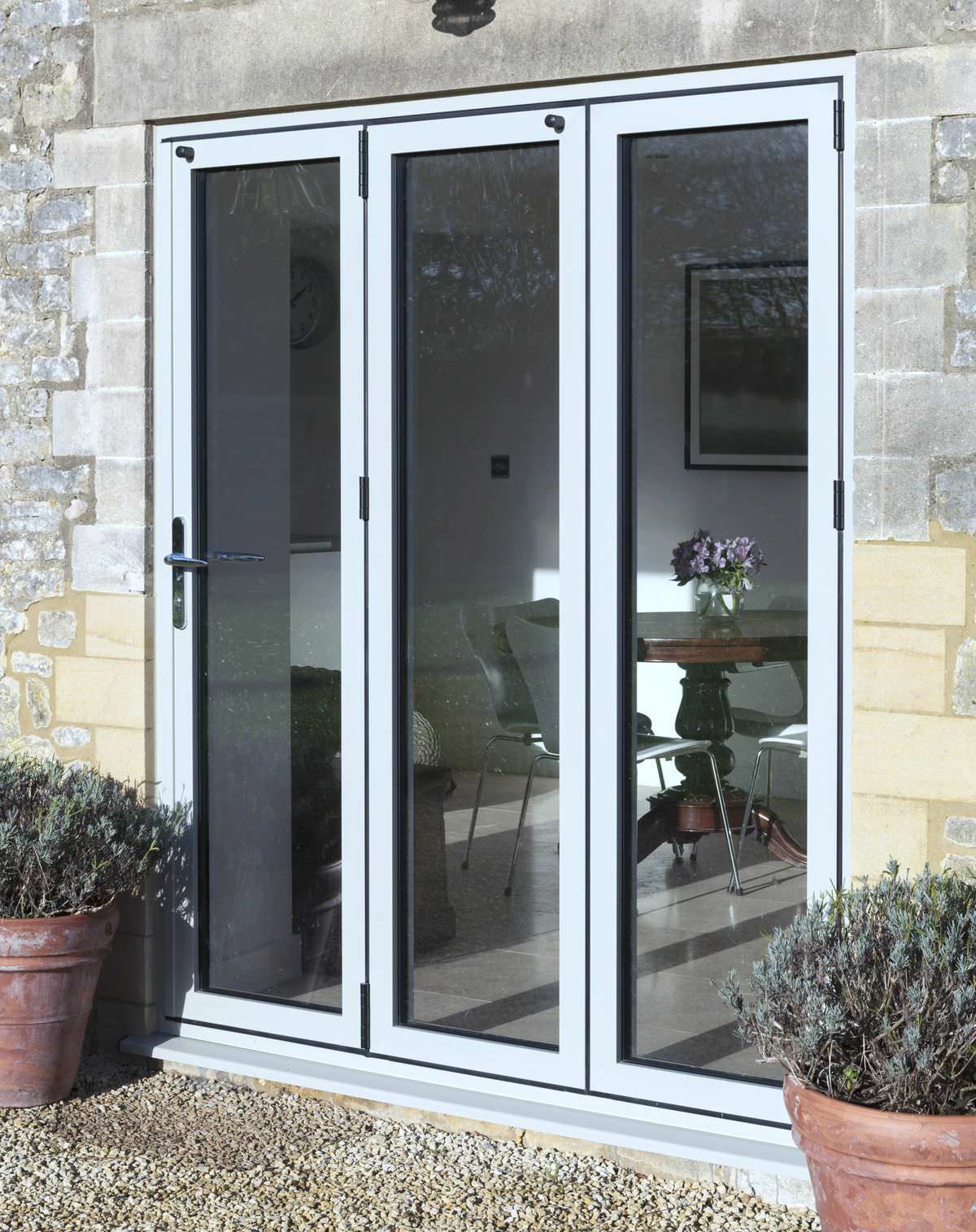 ---
Aluminium Bi-Fold Doors Prices in Essex
We offer fantastic aluminium bi-fold doors prices to our Essex customers, and we make getting a personalised quote easy.
Visit our online quoting engine to pick out your perfect combination of options and get a guide price, or contact us for more information.
https://www.windowsanddoorsessex.com/wp-content/uploads/2016/05/qzYpvco1t3nJQRXBkgEpb2zGgqMLojg2c3rmTNc5dJ8.jpg
1065
1600
admin
https://www.windowsanddoorsessex.com/wp-content/uploads/2016/12/SWD-Essex-Logo-1-updated.png
admin
2017-04-25 12:01:26
2017-04-25 12:01:26
Aluminium Bi-Fold Doors: The Most Trusted Door