Aluminium doors are some of the most advanced home improvements available in Essex today. With its robust and lightweight build, aluminium offers impressive flexibility and security for your home.
At SWD, we're proud to offer aluminium bi-fold doors that offer a bold design with a beautiful finish. Bi-fold doors create space inside your home, as they fit into an in-line slider on one of your walls. With aluminium, you can add a quality finish with a metallic sheen as well.
We know how important getting your investment right is for you and your family. That's why SWD works with top manufacturers like SMART and Yale so that we can offer the best quality hardware. Our aluminium doors come with energy efficient double glazing and reinforced security features.
At SWD, we've been installing aluminium doors in Essex for over 20 years, putting you in control of the process. With us, you can create a bespoke design for your aluminium doors. That way, you'll make an investment that looks the part and saves money for your home from day one.
Aluminium Doors vs uPVC Doors
Aluminium is a more expensive building material than uPVC. But while uPVC does offer plenty of benefits for your home, aluminium is in a different league.
For a start, aluminium has better performance, and for longer too. Aluminium's inherent strength makes it more durable against bad weather, meaning wind and rain doesn't affect it whatsoever. It'll also last for more than 40 years without losing its performance, a decade longer than uPVC.
When it comes to bi-fold doors, aluminium is also a marked improvement. Aluminium is slimmer while also maintaining its shape, making it perfect for gorgeous views of your garden and securing your home.
In particular, security is where aluminium genuinely makes a difference. Aluminium is an impact-resistant material that is far harder to break. Additionally, an aluminium finish better conceals the internal hardware of your doors, meaning they'll be free from prying hands.
Finally, aluminium offers better insulation than uPVC. Because of aluminium's secure design, it constricts the space draughts can get through. As well as this, you'll lose less warmth from your home through the door, meaning you can save even more money on your energy bills.
At SWD, we offer spectacular aluminium bi-fold doors that can make any Essex home stand out. In contrast to the other entrances available in our range, bi-fold doors provide the perfect blend of stunning design and outstanding performance.
Our aluminium bi-fold doors are market-leading, thanks to our partnership with SMART Systems. SMART is the leading fabricator of aluminium in the UK, and they share our commitment to innovation and quality.
Because our aluminium is market-leading, you can have peace of mind that your new doors will keep you safe. Aluminium offers full weatherproofing, air and water-tight design and durable build quality. That way, your home will be practically bulletproof.
Additionally, you'll insulate your Essex home from the noise outside. With a blend of toughened glass and sturdy aluminium, you'll have terrific sound insulation. Aluminium bi-fold doors offer quiet comfort and give your living space a sense of class.
Energy Saving Aluminium Doors
Aluminium doors are the gold standard when it comes to saving money for your Essex home. You can massively improve your home's insulation with aluminium doors. They maintain a comfortable temperature in your home throughout the year.
While you'll use less heating in the winter, you can cut down on your electricity usage in the summer. That's because aluminium bi-folding doors are the ultimate choice for natural light, giving your home a front-row seat to nature. With slimline aluminium, you'll have a crystal-clear view of your garden.
Also, aluminium won't lose its vibrancy over time. You can order aluminium doors with SWD in almost any colour you want, and it'll continue to shine. You can also pair aluminium with a range of handles to give your new doors a personal touch.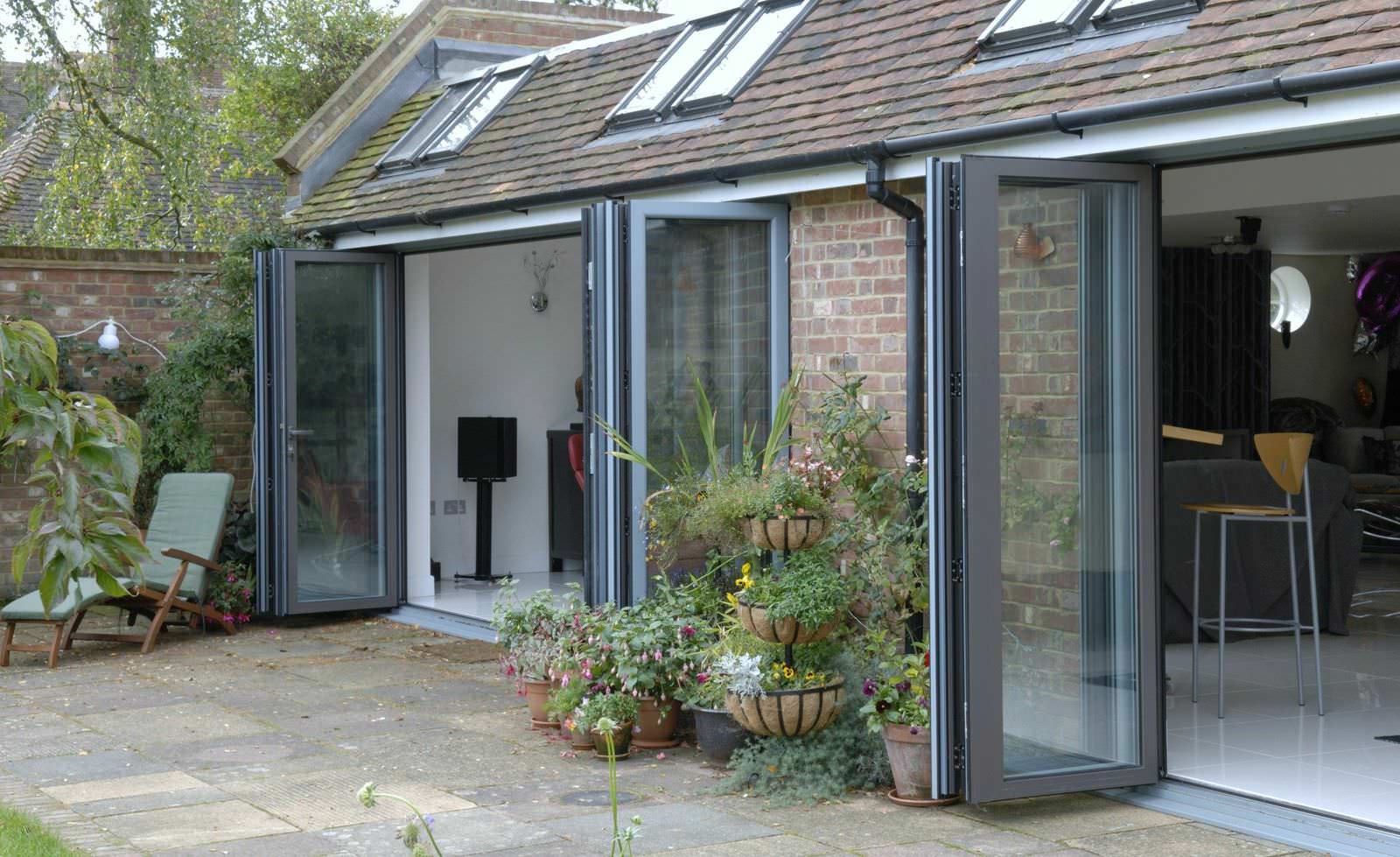 Aluminium Doors Essex Prices
To improve your Essex home with secure aluminium doors, then SWD is the ideal choice in your area.
Use our aluminium doors cost calculator to get a fully bespoke design for your space. You'll have options to customise handles and colours, and you'll be able to get instant quotes.
Alternatively, use our online contact form to ask us any questions about aluminium doors. We'll get back to you with all the key advice.
Also, you can ring us on 01268 281 400 today to speak to us directly. At SWD, we're as excited to enhance your home as you are.
https://www.windowsanddoorsessex.com/wp-content/uploads/2016/05/Bi-Folds.jpg
1071
1600
admin
https://www.windowsanddoorsessex.com/wp-content/uploads/2016/12/SWD-Essex-Logo-1-updated.png
admin
2019-10-02 09:35:44
2019-10-02 09:35:44
Aluminium Doors Essex