Double Glazing Installation Canvey Island
SWD were approached by a customer in Canvey Island looking to update the double glazing in their home. The project consisted of updating the current double glazing to more modern styles. The existing window systems fitted in the house were outdated, providing little benefit to the homeowners. Our clients wanted double glazing installations that were energy-efficient, secure and added visual appeal to the property.
The customers originally had a patio door as well as casement windows with an Elizabethan glass style. They wanted to modernise the appearance and increase their external views with our double glazing. As well as this, our clients had an underperforming front door, again fitted with the Elizabethan glass style. For the front door, our clients wanted a sleek composite door with obscured glass for more privacy.
SWD were more than happy to take on the task, ensuring our customers in Canvey Island were left satisfied with their home improvement. We discussed the different options with the customer and surveyed the space so we could custom-make each double glazing product to fit. We offered the customers our opinion for what best suited their space, yet left the design decisions in their hands.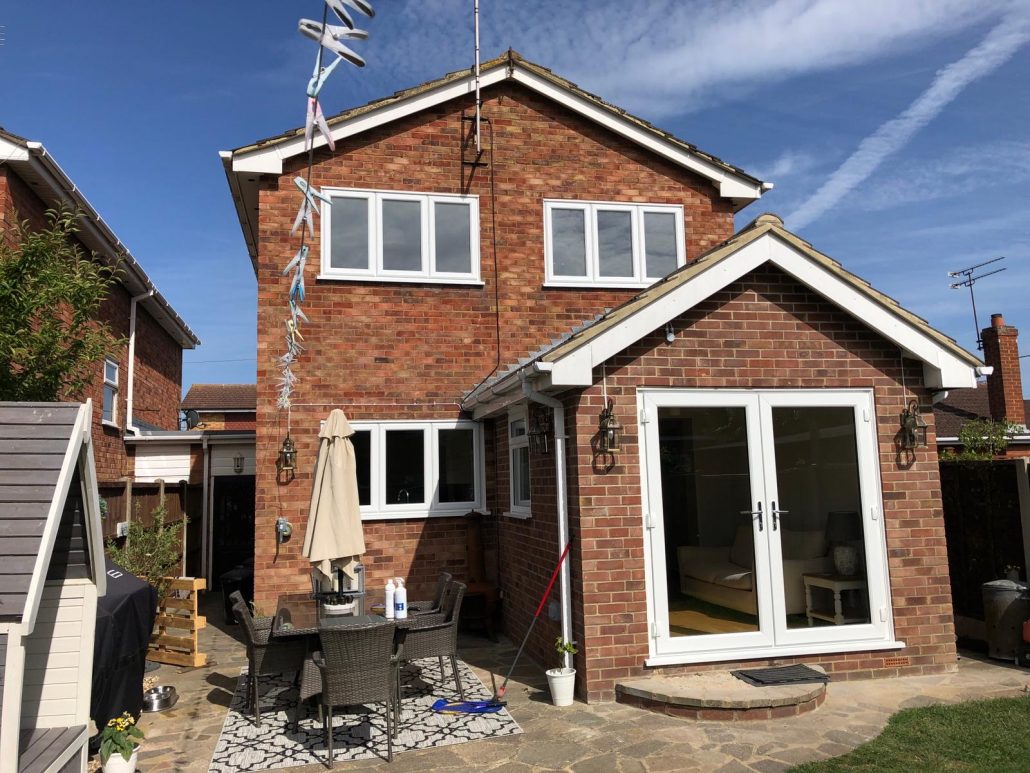 Modern French Doors
The patio doors that were originally fitted darkened the room due to the glazing design. The door was worn down, and desperately needed refurbishing. The Canvey Island customer designed on a beautiful set of French doors as a replacement. The doors were fitted with double glazing from top to bottom, with robust uPVC framework. This was designed with our durable white paint finish, which doesn't crack or discolour, even during the most extreme weather. The new French doors were finished with contemporary silver door handles, and came fitted with a secure multi-point locking system.
Durable uPVC Windows
Our Canvey Island customers wanted double glazed window replacements for the entirety of their house. With outdated profiles that didn't let in much light, the house needed brightening. Downstairs, the house was fitted with a bay window, which the customers wanted to keep. We took this idea and suggested replacing the windows for our high-quality uPVC profiles. This still kept the charm of the bow and bay window feature yet allowed much more natural light to stream in through the double glazing. For the rest of the windows, we used market-leading uPVC profiles as replacements for the Canvey Island property.
The double glazing on these windows, as well as the doors, excels in thermal efficiency, trapping warm air to keep houses warmer for longer. As our customers in Canvey Island were getting a full window replacement, we wanted to make sure that every individual product reached high standards in durability and weather resistance. Our leading suppliers consistently manufacture superior windows and doors, and test each installation so each customer is happy with the end result.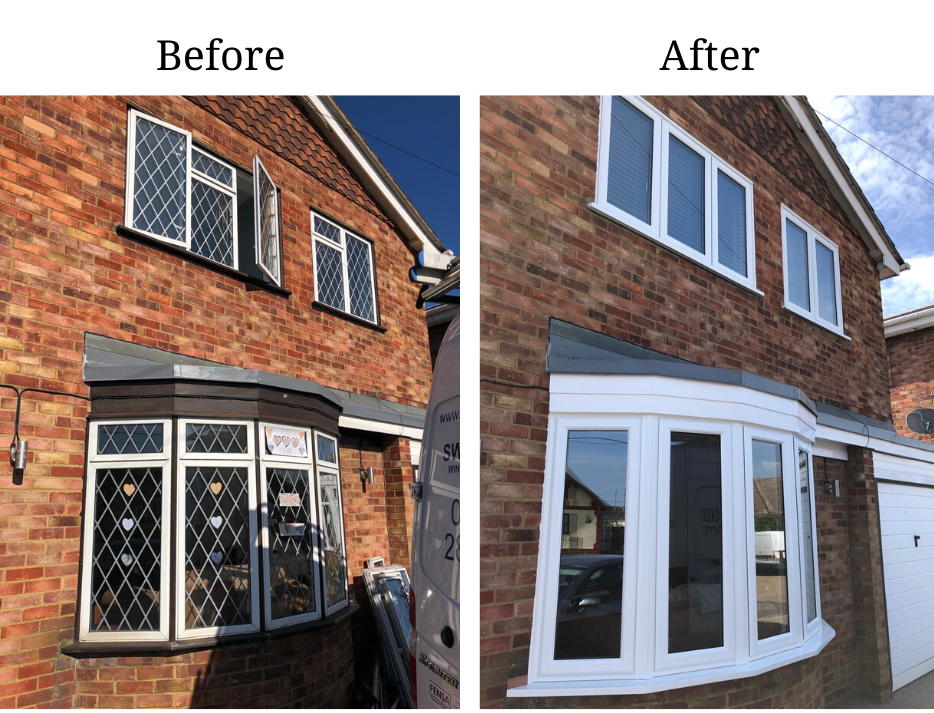 Stylish Composite Door
We finished the project with a brand new composite door. Our client choose a sleek profile with two double glazed panes. The glass was obscured to retain seclusion, yet still let in natural light to brighten the property. The customers decided on a modern black finish, replicating the look of traditional timber. To the side of the door, we fitted an obscured glass panel with our durable double glazing. For the finishing touches, our clients chose a matching knocker, letterbox and silver handle. This came fitted with a secure locking system to protect their Canvey Island home from unwanted intruders.
Following the double glazing installation, our customers were very happy with their new home. The high-quality materials meant they could enjoy a thermally regulated house and a brighter property. Thanks to the double glazing, their home will stay warmer for longer meaning they could save on their energy bills. The longevity of our products is unrivalled, meaning our customers won't have to replace their windows for decades.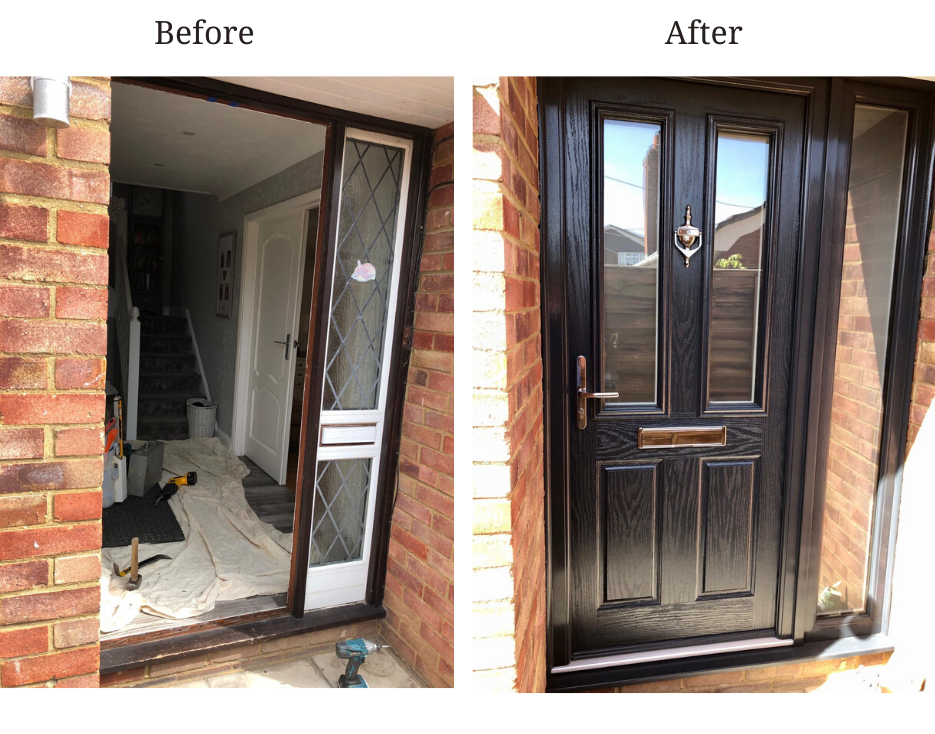 Double Glazing Prices Canvey Island
If our recent double glazing project in Canvey Island has inspired you, then don't hesitate to get in touch. We offer a wide range of windows, doors and conservatories as well as roofing systems. Whether you're after uPVC windows, French doors or composite front doors, we are happy to work with you. We also offer a range of aluminium products, as well as a huge selection of uPVC home improvements.
You can get started on your next home improvement project today when you use our innovative online quoting engine. Just input your design and style choices, as well as your specifications. We will then give you a bespoke price for your double glazing. You can use our quoting tool as many times as you like, on our entire range of products.
Give us a message to find out more about our double glazing. You can fill in our contact form and we will get back to you when possible. Alternatively, you can call us on 01268 281 400 to discuss your next project. We will happily answer any questions you have about our double glazing. We look forward to hearing from you!
Categories: uPVC Windows Basildon